Regular price
$166.00 USD
Regular price
Sale price
$166.00 USD
Unit price
per
Sale
Sold out
Sorry, but this
 felted hat
 has already been adopted. 
~~~~
This Dramatic Felted Pink Grapefruit Hat is as delicious as it is head-turning. In its beautifully playful pinkness, it is also rather Kawaii in style!
COLOR:
•  The hat is pink and white, with peach overtones. White silk fibers are felted onto the tip to resemble grapefruit segments.
SHAPE:

•  The hat is shaped like an asymmetrical beret and sits at an angle on the head. It is rather Dior New Look in silhouette.  
SIZE:
• Headsize SMALL to MEDIUM: fits a range of 22" / 56 cm to 22.5" /  57 cm.
• The hat measures 3" / 7 cm in height and 15" / 38cm in width.

• It is a medium thickness of felt and weighs 8 ounces / 225 grams.
Inside the hat, there's a grosgrain ribbon with a drawstring to make the hat smaller, if needed.


This hat is ready to ship.
If you have any questions, please feel free to contact me.
Materials

Merino Wool and Bamboo Fibers.
Care

Felt is an eco-friendly, fiber that is water and stain resistant. Dust is not a problem - just give it a shake. 

This hat can be gently hand-washed in cool water. Rinse. Blot dry on a towel. Place a small towel inside to shape. Always air dry hand felted wearables.

For more information, see this Illustrated Guide.
What is Felt?

Each FeltHappiness Hat is entirely handmade and created from soft Merino wool fibers using the technique of wet felting. It's an ancient and simple craft that takes patience and lots of kneading to shrink the fibers into a strong, flexible, and warm felt. To learn more, see HERE.

In addition to insulating, wool naturally resists water. Hence, your felted hat will keep you warm in chilly weather and dry in light rain. Plus, wool resists mildew, dirt, and fire!

It's magical stuff!
Measuring Your Head

Every head has its own unique size and shape, which can be measured with a flexible tape measure or even a piece of string.

Take the tape measure and encircle your head, just above the top of your ears. Make sure that the tape measure goes over that small bump at the back of your head. Please don't pull it tightly. Leave a little 'ease' so that one finger can fit under the tape. An ear-to-ear measure can be helpful too.

Measure three times: it is surprising how it can vary!

Inches or centimetres are fine.
View full details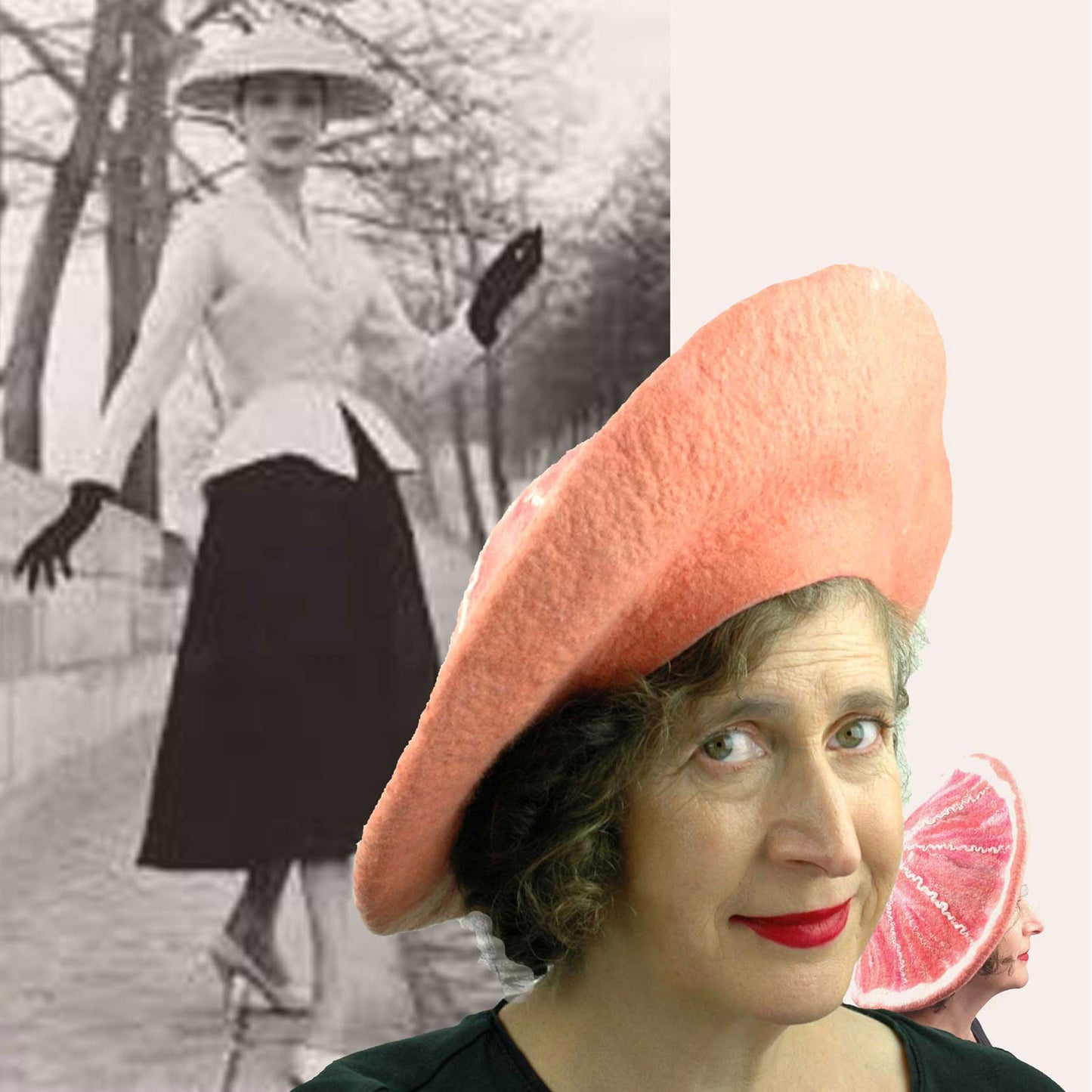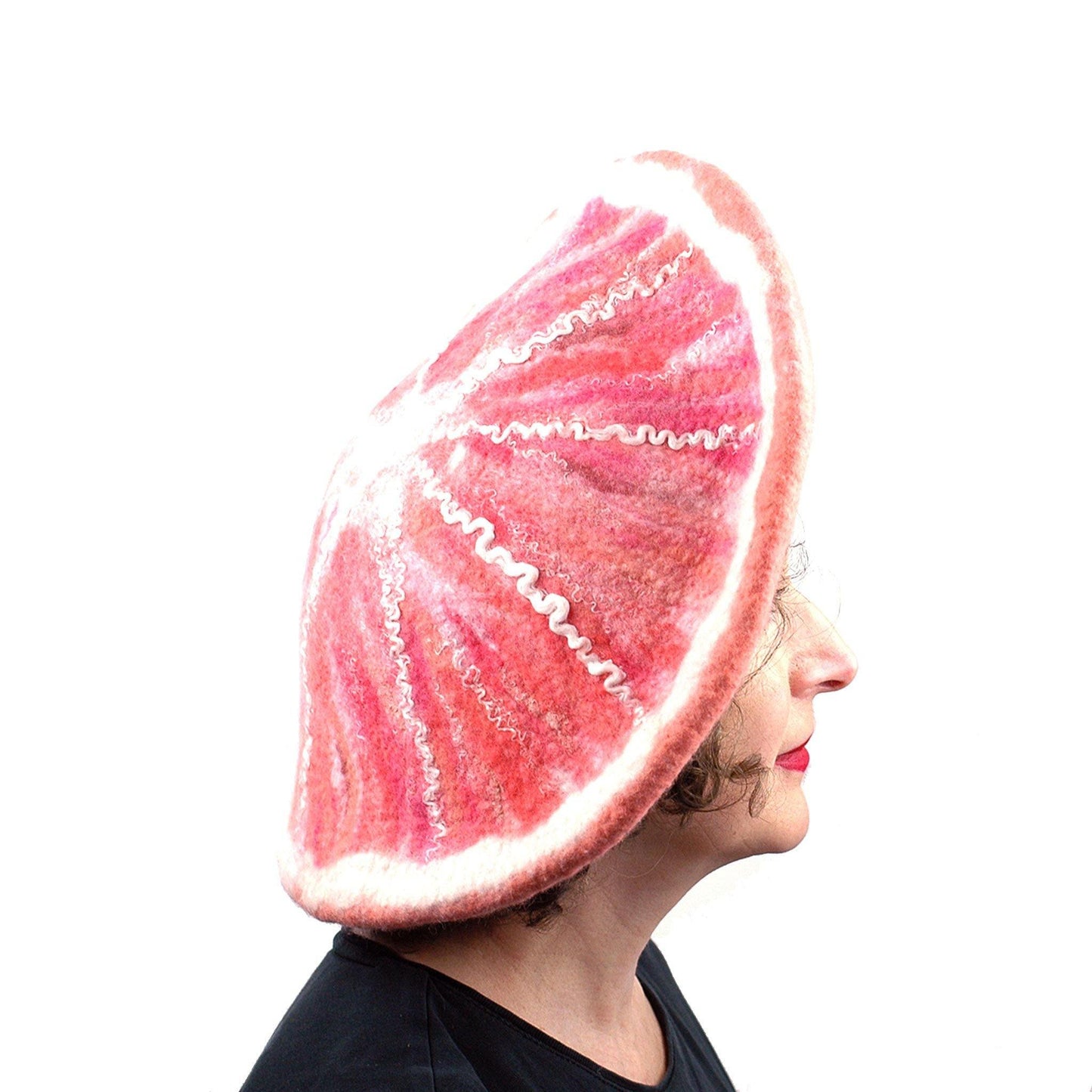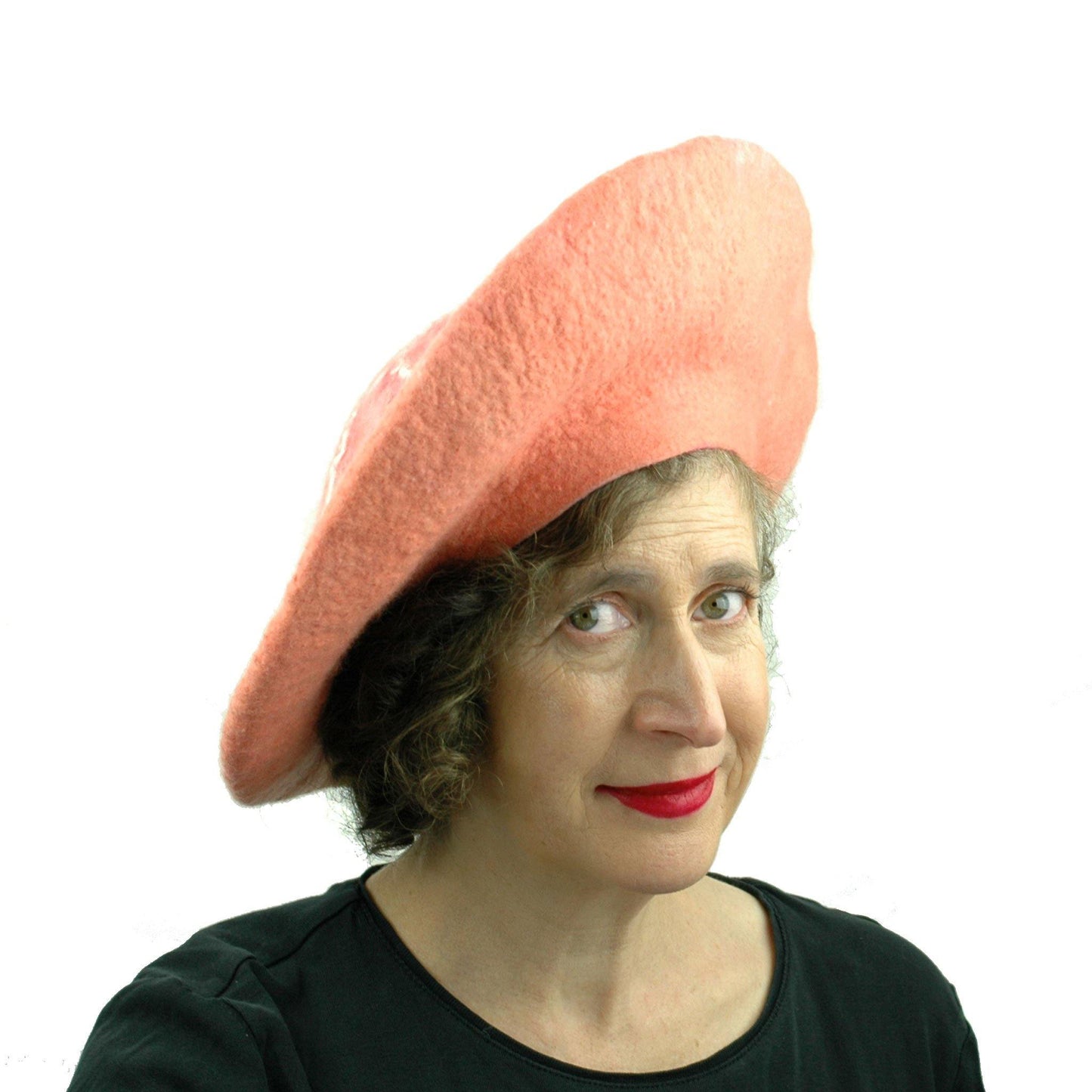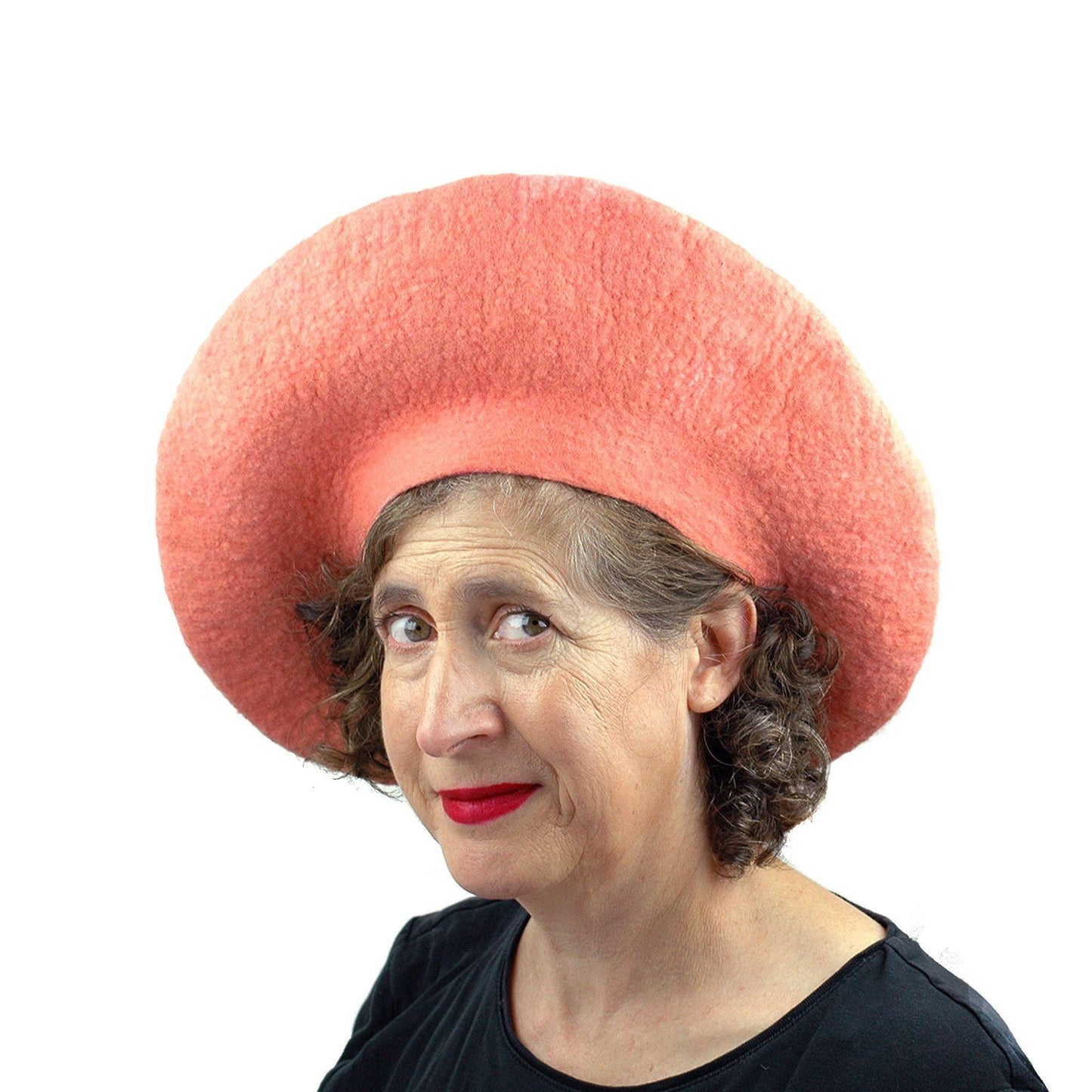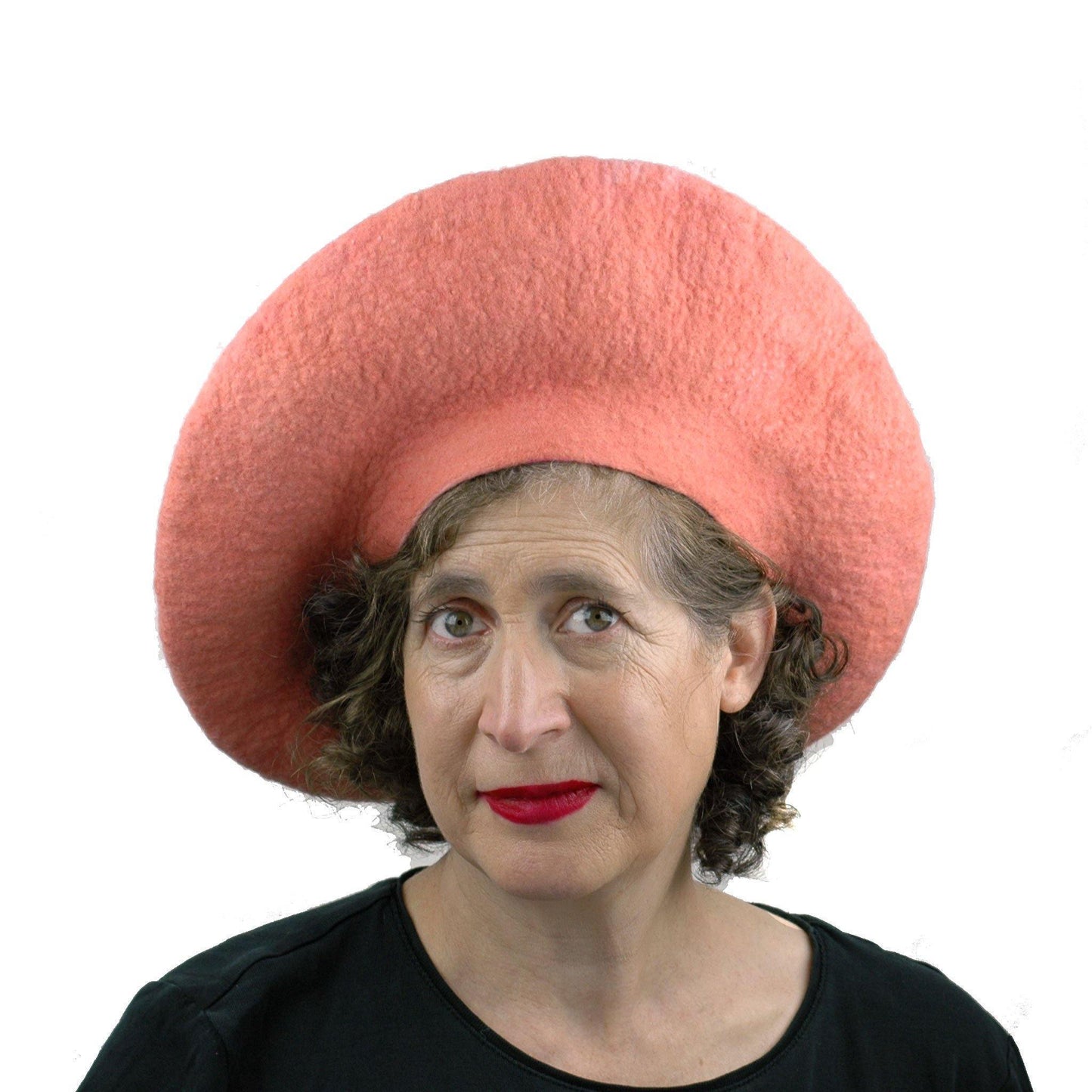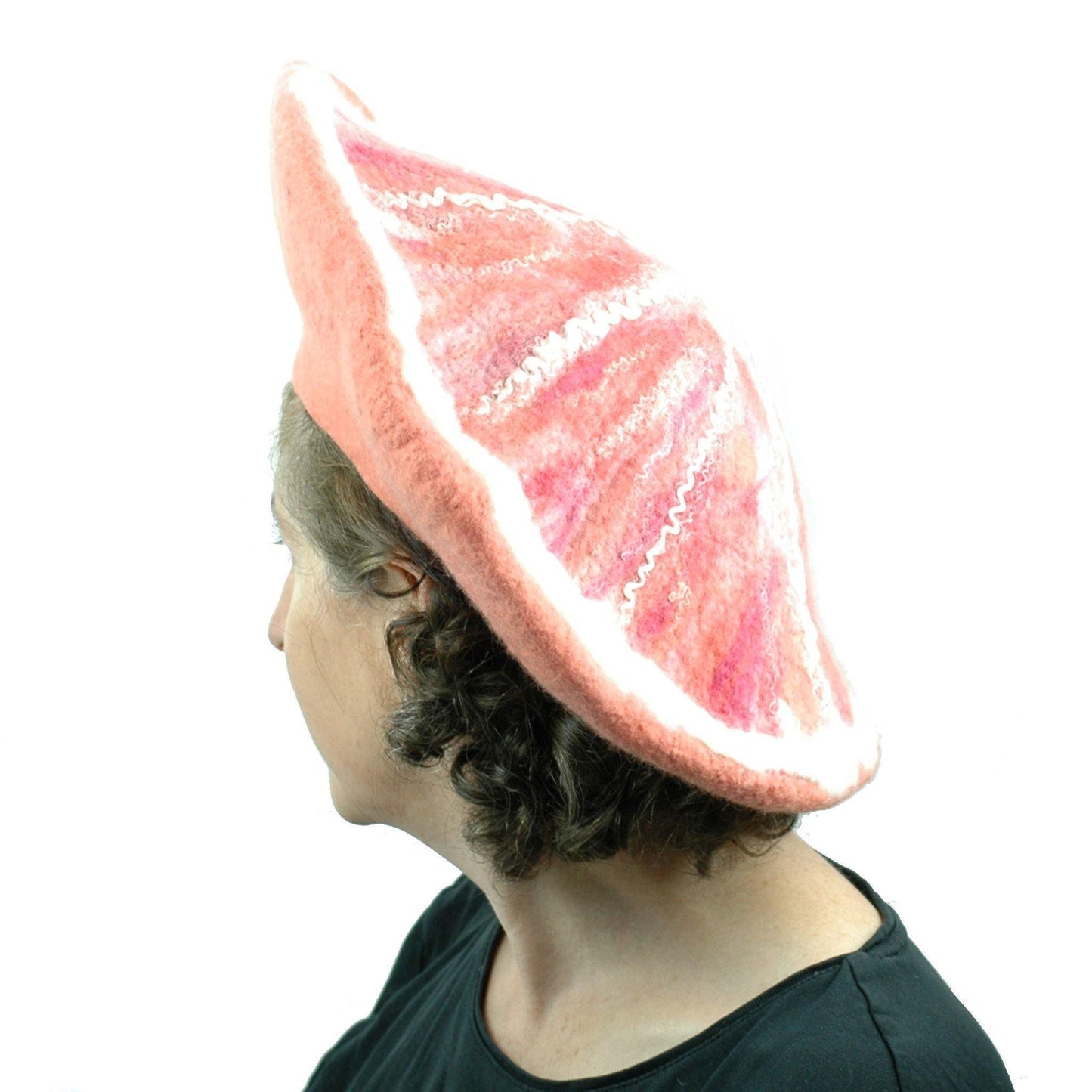 This is it folks. This is THE hat that started it all. I adopted it early thus year and then 5 other lonely hats have joined us here. The dramatic, large brim of this hat makes it very maneuverable and I love that I can tilt it towards people so every see i am sporting a grapefruit hat. The felting is as always impeccable, and juliane did minute little veins in the grapefruit flesh which made it look perfectly citrussy
DELIGHTED!
Yes, I am ever so delighted that you have taken such a shine to felted headwear. Indeed, The Grapefruit is your CATALYST Hat! Enormous thanks for all of the thoughtful ways that you have appreciated this hat - including your fantastic photoshoots and music videos!! Enjoy wearing and dancing with your Grapefruit!