Regular price
$162.00 USD
Regular price
Sale price
$162.00 USD
Unit price
per
Sale
Sold out
Sorry but this Felted Hat is sold.
This Kitsch Kiwi Beret is a real cutie pie. Wear this green and white fruity goodness to give an extra bit of quirky fun to your autumn wardrobe. 
COLOR:

•  This felted beret has the fuzzy brown color of a Kiwi Fruit.  On top, the hat is grass green with a shiny white center. Due to being a handcrafted hat, the black seeds on this felted Kiwi Beret are more subtle than the other hats in the series.

NOTE:  I needle felted in some darker seeds to make this hat similar to her sister Kiwi Berets.  The photos will need to be updated.
SHAPE:
• This hat is flat on top, with wide sides. If you like, you can wear the hat farther back on your head or tilted at an angle for a retro look. Or you can twist it on your head so that the hat has a narrower profile, similar to a flight attendant's hat.
SIZE:
• The hat measures 7" / 17.5 cm in height and 14.5" / 36.5 cm in width.

• It is a medium thickness of felt and weighs 4.7 ounces / 134 grams.

• Headsize LARGE: it's large-sized hat and fits a range of  22.75" / 57.5 cm to 23.5" / 60  cm. 



This Kiwi-Inspired Beret is ready to ship. 
 If you have any questions, please feel free to contact me.
Care

Felt is an eco-friendly, fiber that is water and stain resistant. Dust is not a problem - just give it a shake. 

This hat can be gently hand-washed in cool water. Rinse. Blot dry on a towel. Place a small towel inside to shape. Always air dry hand felted wearables.

For more information, see this Illustrated Guide.
What is Felt?

Each FeltHappiness Hat is entirely handmade and created from soft Merino wool fibers using the technique of wet felting. It's an ancient and simple craft that takes patience and lots of kneading to shrink the fibers into a strong, flexible, and warm felt. To learn more, see HERE.

In addition to insulating, wool naturally resists water. Hence, your felted hat will keep you warm in chilly weather and dry in light rain. Plus, wool resists mildew, dirt, and fire!

It's magical stuff!
Measuring Your Head

Every head has its own unique size and shape, which can be measured with a flexible tape measure or even a piece of string.

Take the tape measure and encircle your head, just above the top of your ears. Make sure that the tape measure goes over that small bump at the back of your head. Please don't pull it tightly. Leave a little 'ease' so that one finger can fit under the tape. An ear-to-ear measure can be helpful too.

Measure three times: it is surprising how it can vary!

Inches or centimetres are fine.
Sustainability

Wool is a highly sustainable and eco-friendly material. Sheep grow their wool continuously and need to be shorn regularly for their own health and comfort. This means that wool is a renewable resource, and the production of wool does not harm the animal.

In addition, wool is biodegradable, which means that it will naturally decompose over time and will not accumulate in landfills or oceans. This makes wool a great alternative to synthetic materials that take centuries to decompose and contribute to environmental pollution.

Moreover, wool is an excellent insulator, which means that it can help to reduce energy consumption by keeping us warm in the winter and cool in the summer. It is also naturally flame-resistant and has antibacterial properties, making it a safe and hygienic choice for clothing and bedding.

Overall, wool is a sustainable and natural product with many benefits for both the environment and consumers. FeltHappiness Hats uses wool into our products to promote more sustainable and ethical fashion practices.
View full details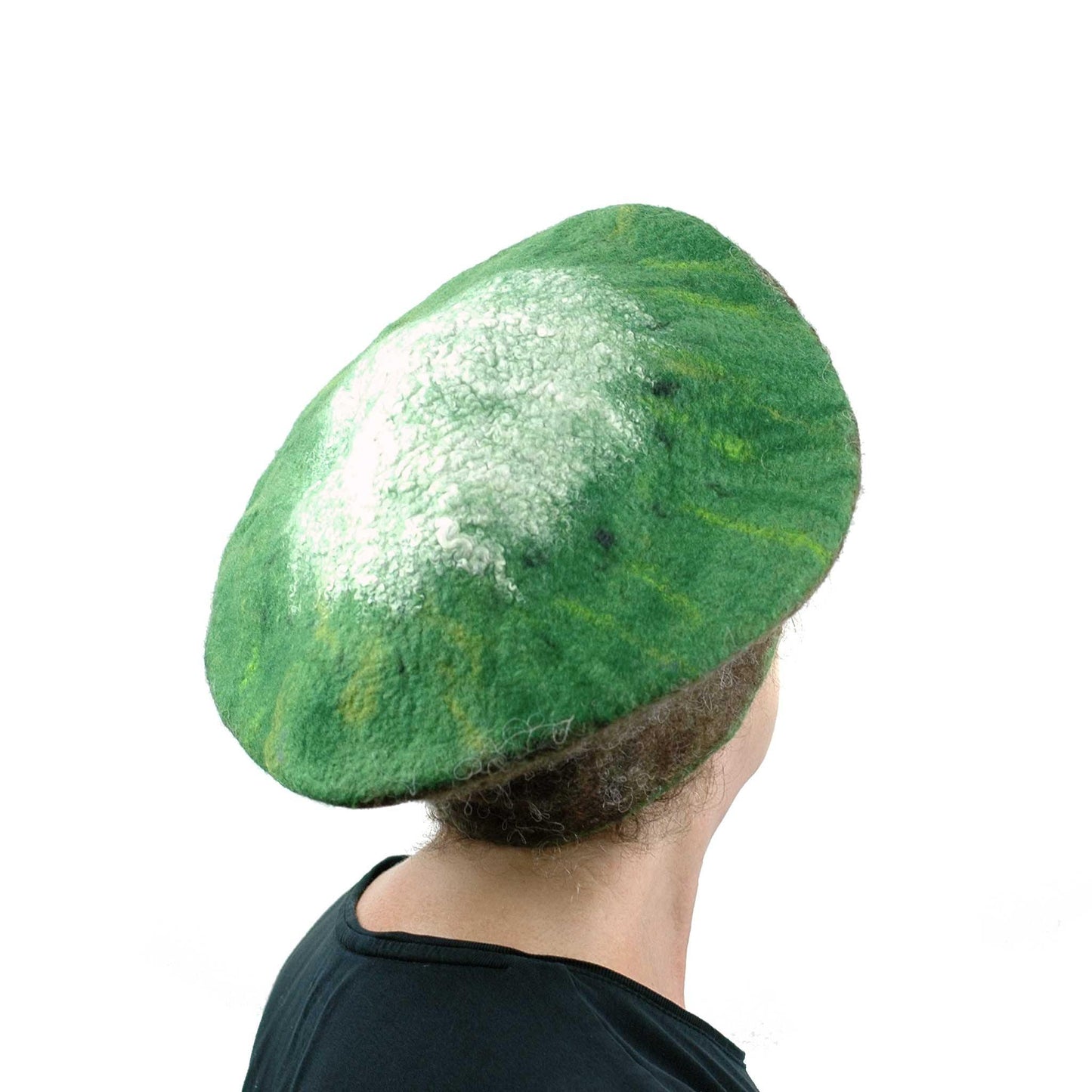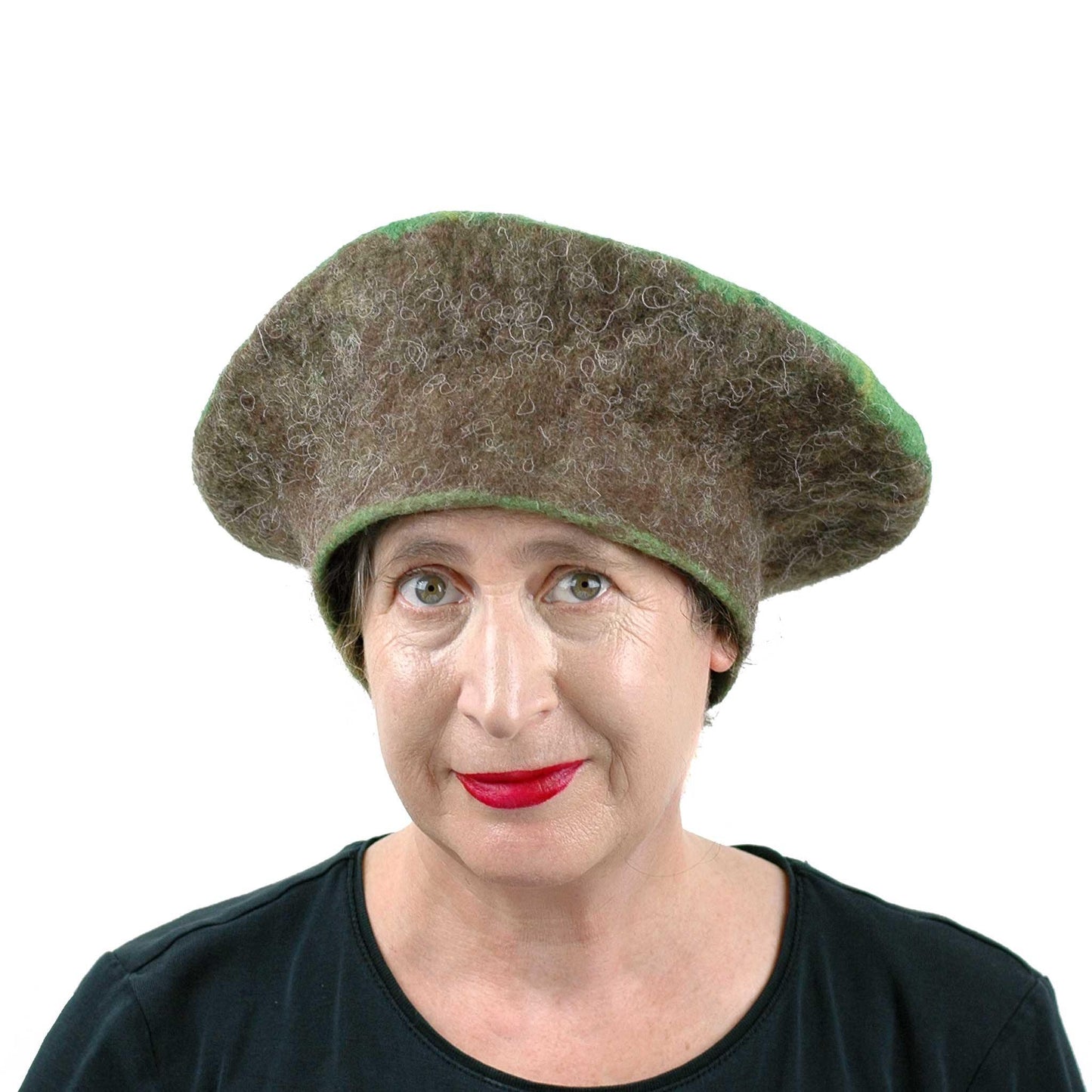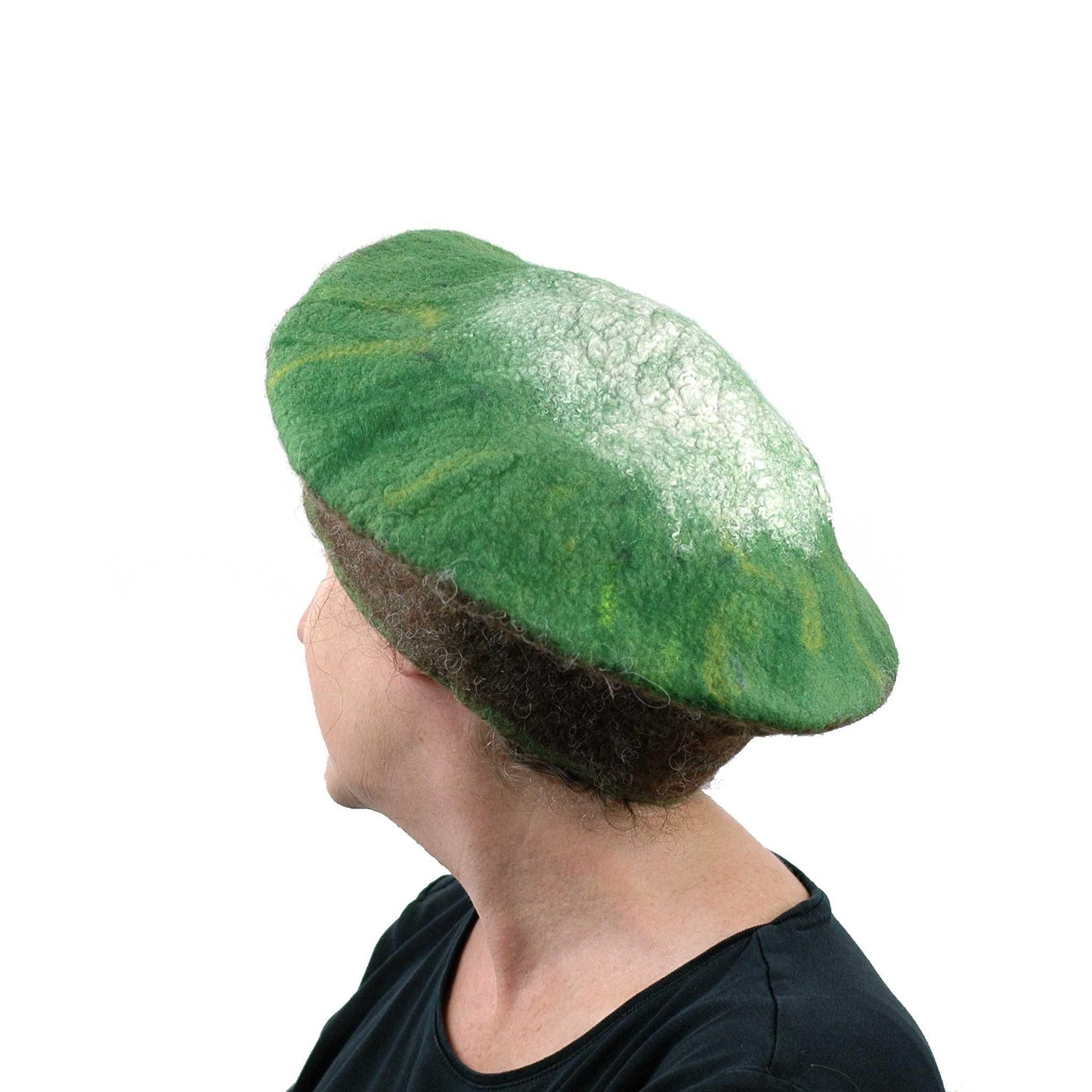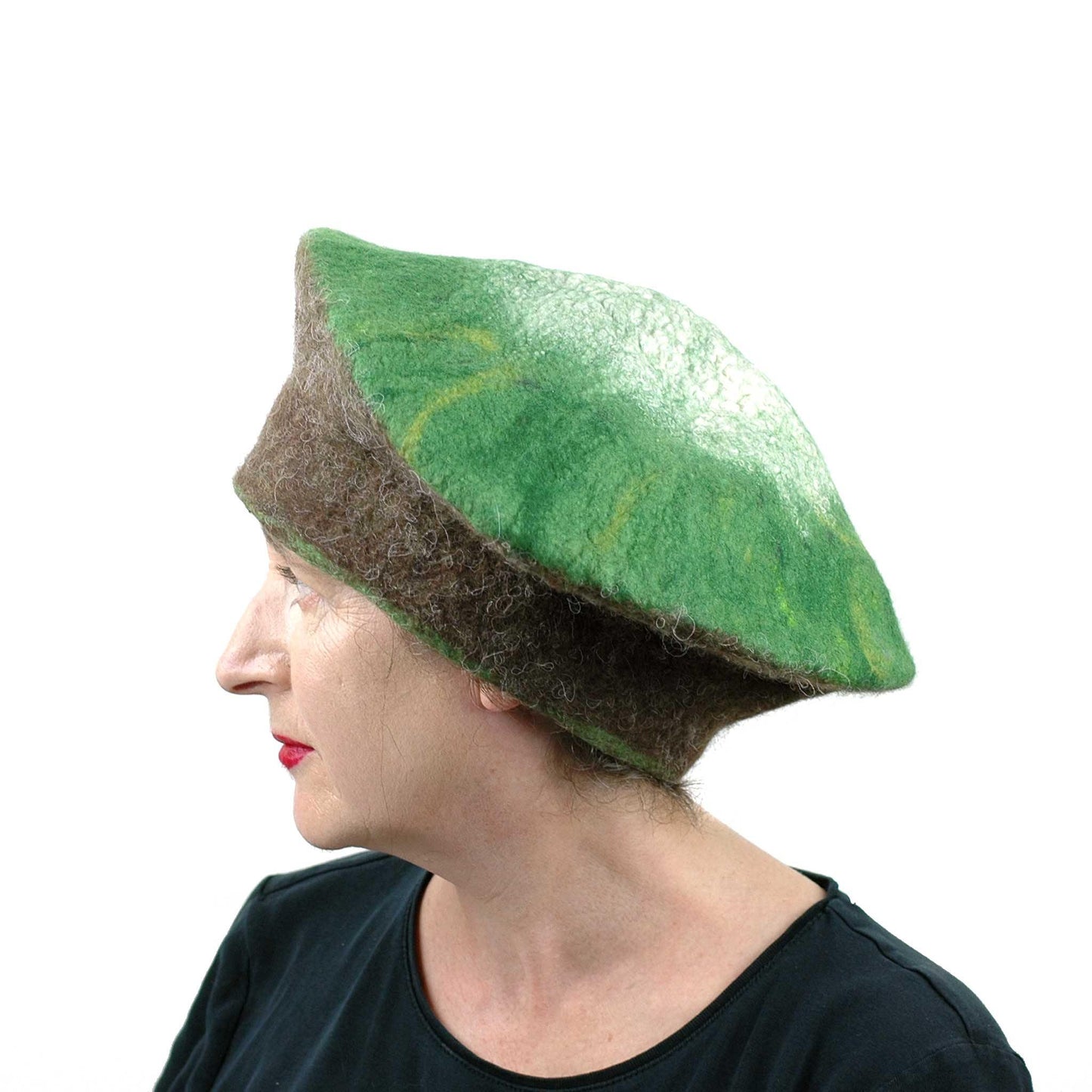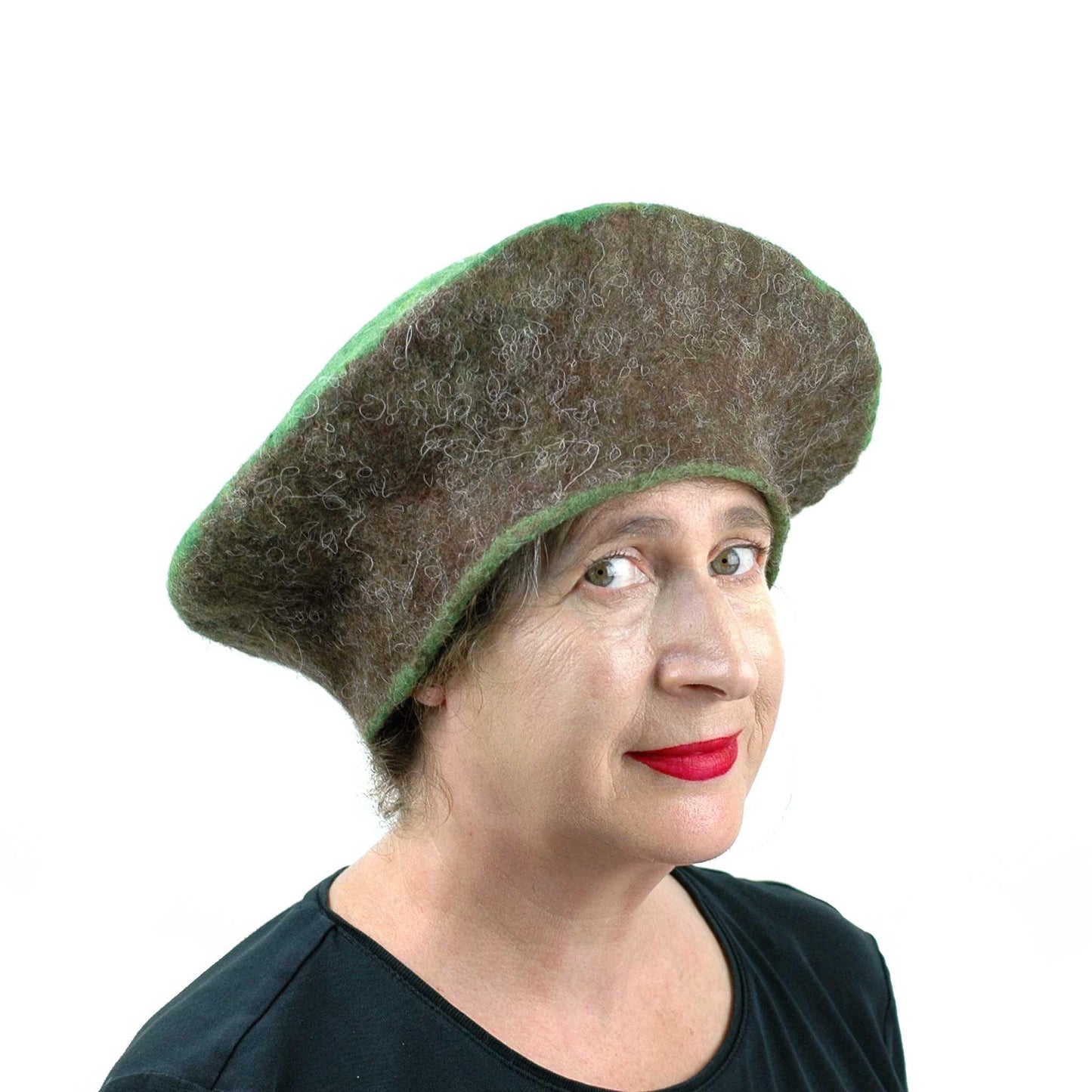 Fruit hats - the new frontier
I have now, I want to say at least 3 of Juliane's stunning Fruit hats - so far. There is something some playful and whimsical about them, and I love the way that they silhouette my face, and also how they act as a conversation starter with people I meet in the street.
Dear Rory,
Thank you so much for being you and being such a fan for Felted Fruit Hats. The Kiwi is a FUN one because it is rather subtle (and fuzzy) from the front but then the 'Ah Hah' recognition comes as you move about! Glad that the hats are sparking conversations with the world. (Hats will do that!) Thank you for your support and here's to many more whimsical adventures with your fruit hats!