Regular price
$162.00 USD
Regular price
Sale price
$162.00 USD
Unit price
per
Sale
Sold out
Sorry, but this Shades of Orange Sculptural Hat with Ties has already been adopted. 
~~~~~
This is the grand Shades of Orange Sculptural Hat with Ties. She's similar to her slightly quieter (and smaller) sister hat. Shades of Orange is a brilliantly sunny hat with swooping curves. Wear the long flame-like ties in front or looped together.
COLOR:
• This hat is a wonderful mix of yellow to red oranges. Additionally, there are some deep yellow shades. All of the colors seem to pour out of the warm black crater that is on the tippy-top of the hat.


SHAPE:
• The hat is like a Beret on steroids. It is a Beret and more because of the two curved planes that swirl alongside the dark and mysterious crater. The edges and ridges of this hat have been machine topstitched to help give extra verve to the shape. The left tie has a slit so you can slip the other tie through.
SIZE:
• The hat measures 7" / 18 cm in height and 13" / 33 cm in width. The ties are approximately 22" / 56 cm.

• HEADSIZE - It's a MEDIUM LARGE sized hat and fits a range of 22.5" / 57 cm to 23" / 58.5 cm.  
QUESTIONS
If you have any questions about this Shades of Orange Sculptural Hat with Ties, please contact me.

This hat is Ready to Ship.
Care

Felt is an eco-friendly, fiber that is water and stain resistant. Dust is not a problem - just give it a shake. 

This hat can be gently hand-washed in cool water. Rinse. Blot dry on a towel. Place a small towel inside to shape. Always air dry hand felted wearables.

For more information, see this Illustrated Guide.
What is Felt?

Each FeltHappiness Hat is entirely handmade and created from soft Merino wool fibers using the technique of wet felting. It's an ancient and simple craft that takes patience and lots of kneading to shrink the fibers into a strong, flexible, and warm felt. To learn more, see HERE.

In addition to insulating, wool naturally resists water. Hence, your felted hat will keep you warm in chilly weather and dry in light rain. Plus, wool resists mildew, dirt, and fire!

It's magical stuff!
Measuring Your Head

Every head has its own unique size and shape, which can be measured with a flexible tape measure or even a piece of string.

Take the tape measure and encircle your head, just above the top of your ears. Make sure that the tape measure goes over that small bump at the back of your head. Please don't pull it tightly. Leave a little 'ease' so that one finger can fit under the tape. An ear-to-ear measure can be helpful too.

Measure three times: it is surprising how it can vary!

Inches or centimetres are fine.
View full details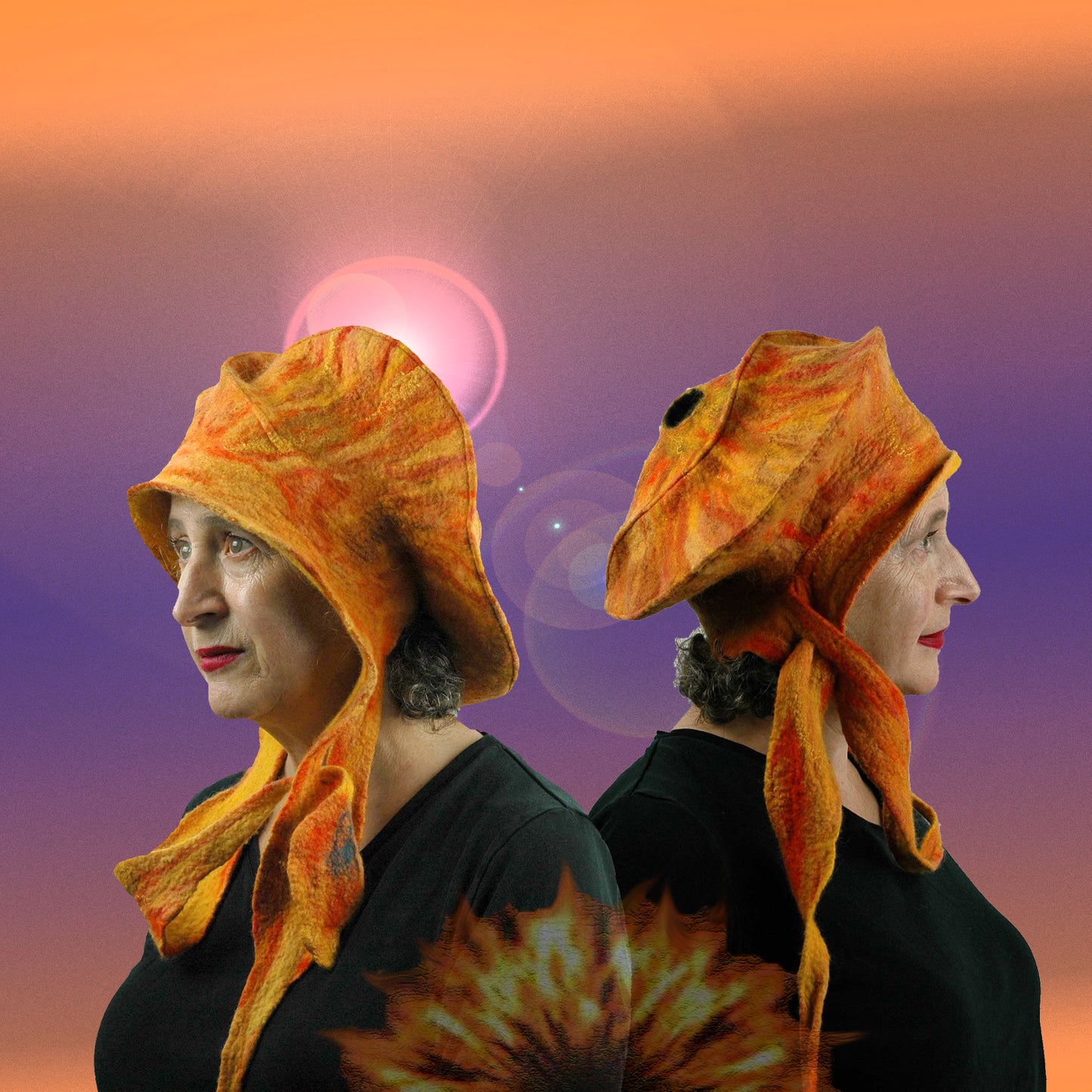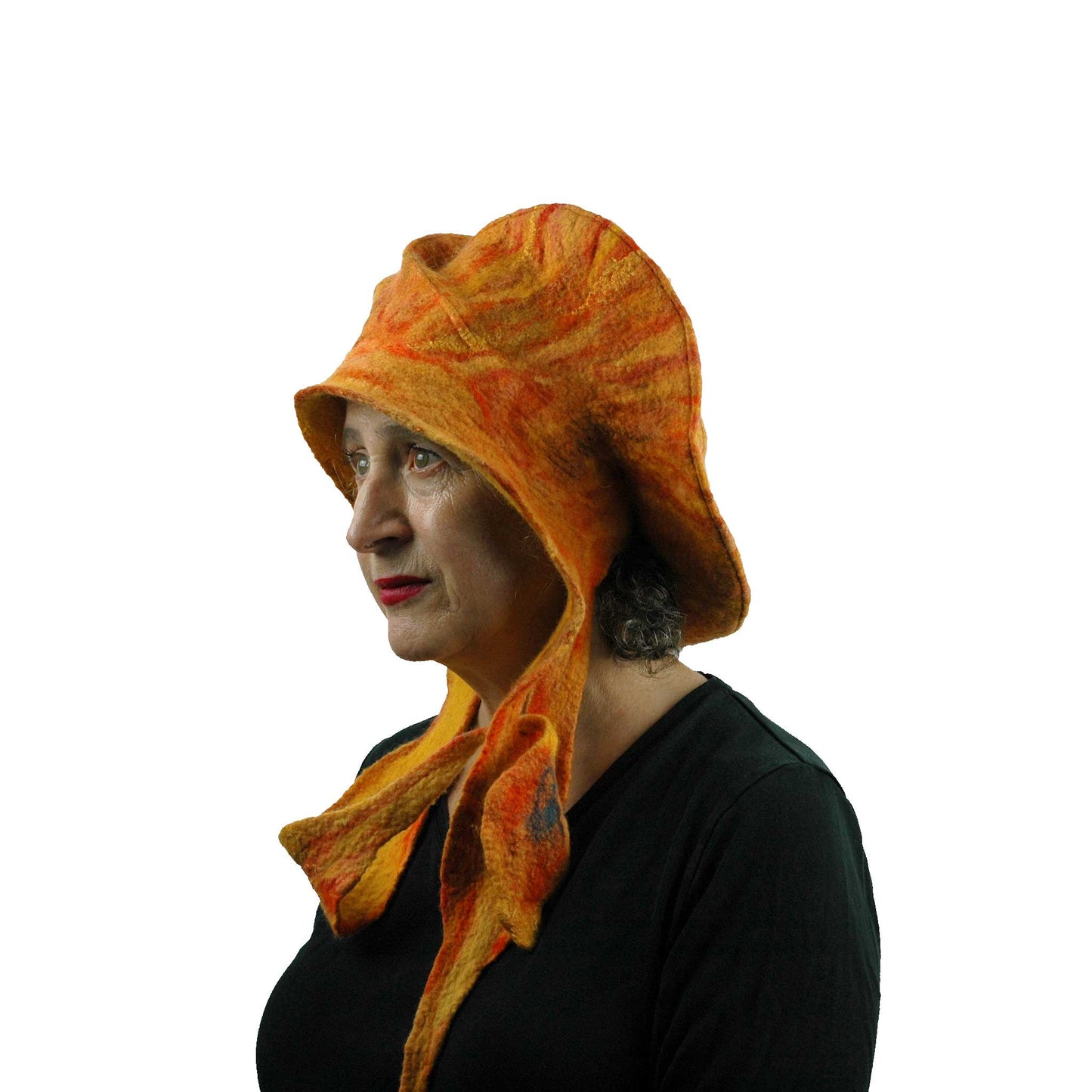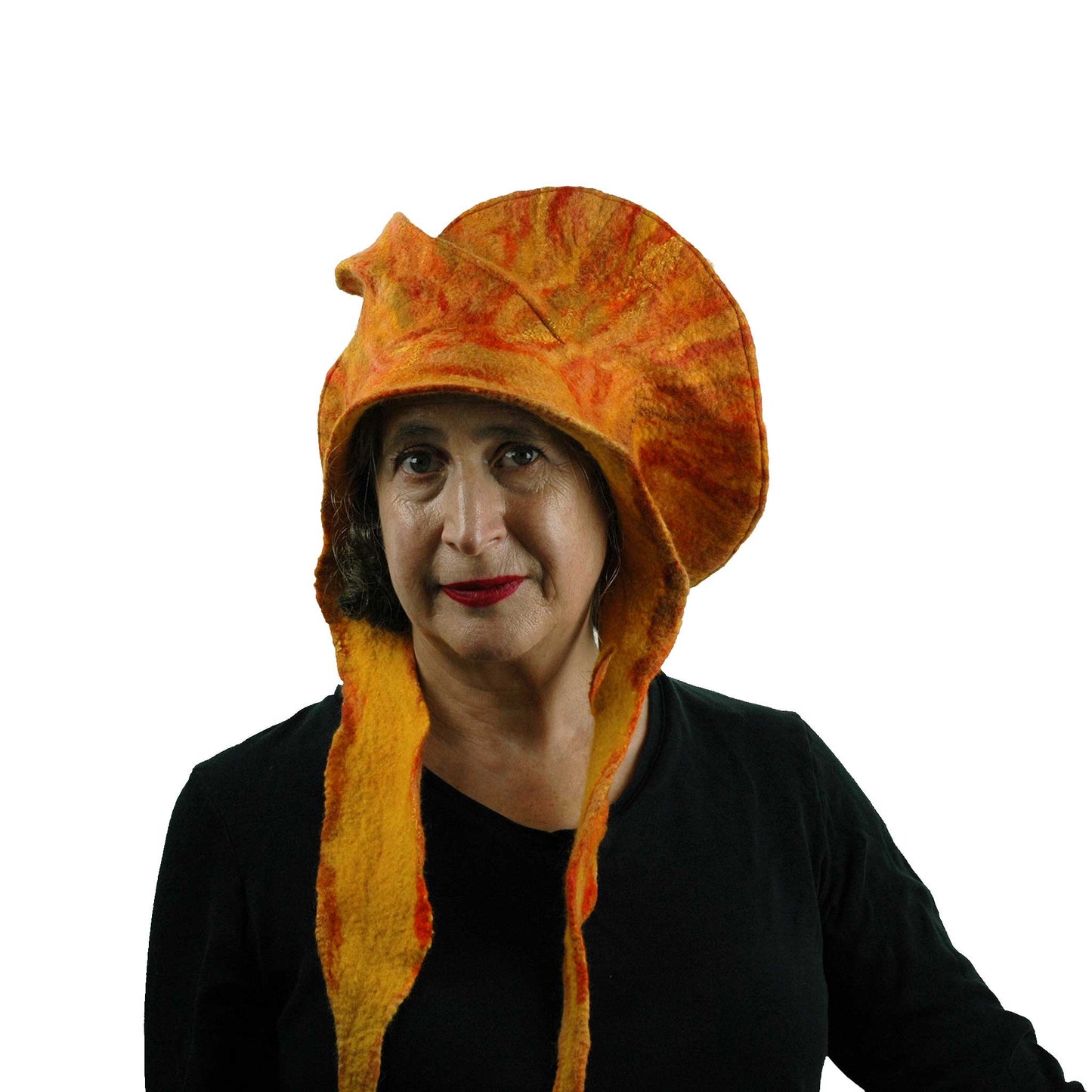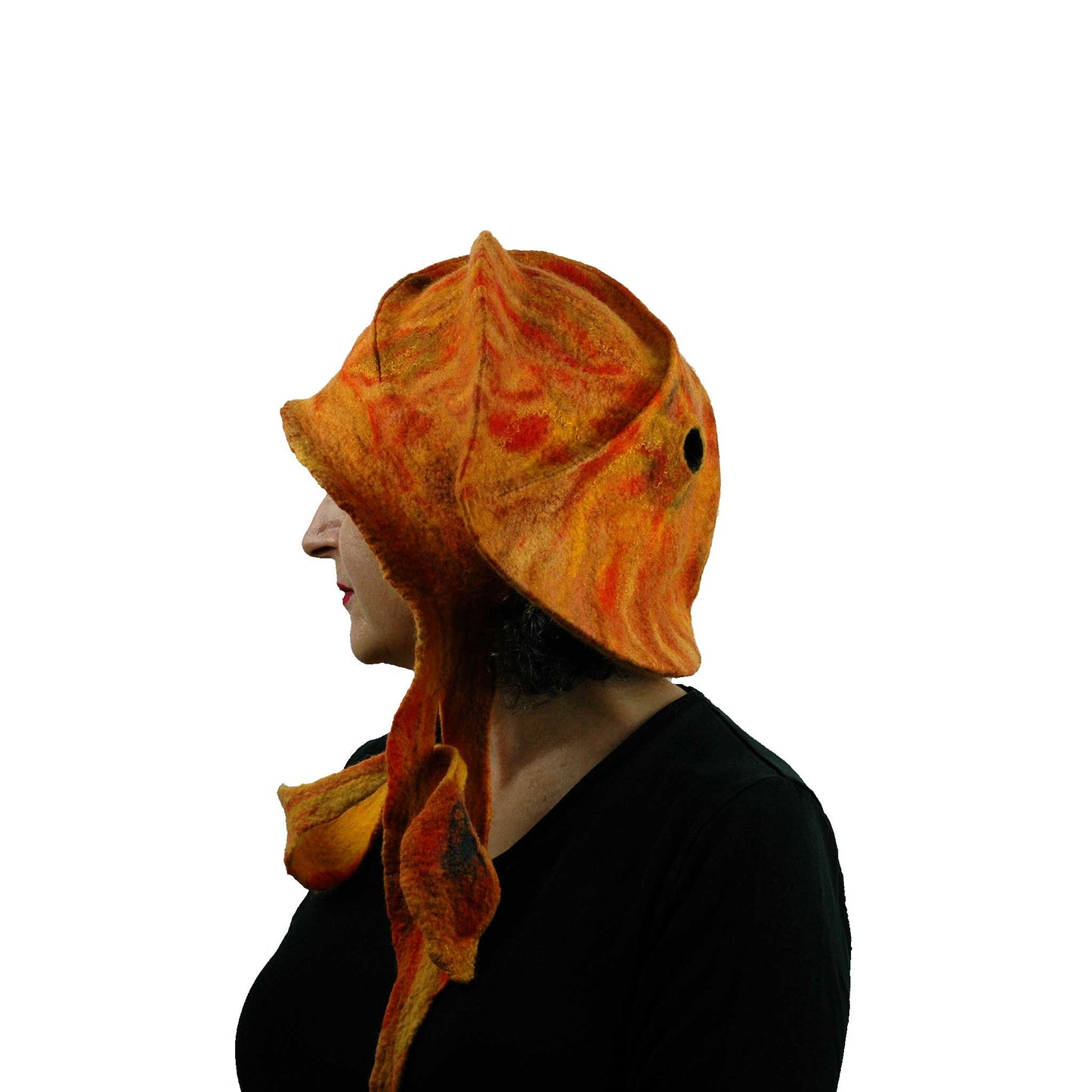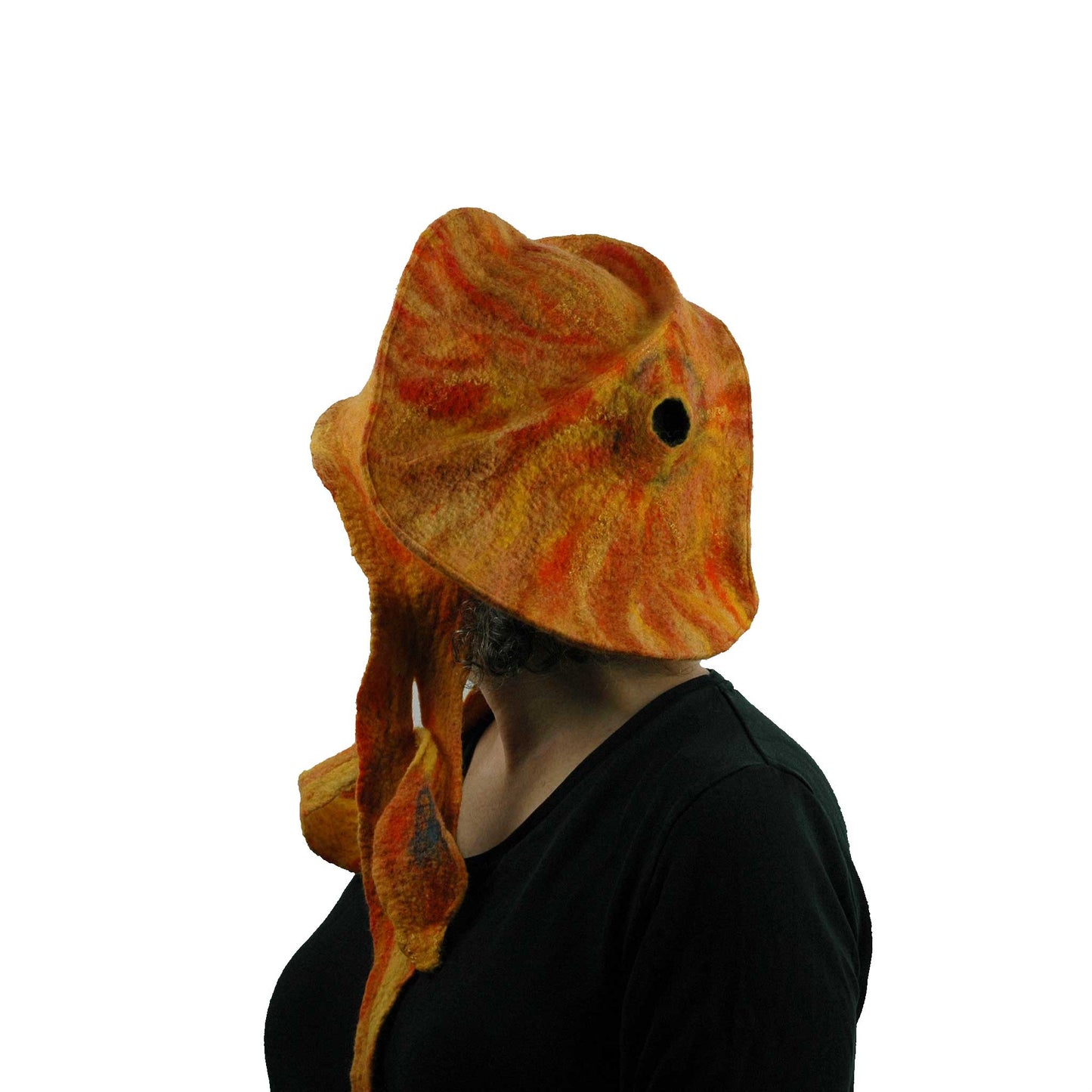 A little galactic flair, a little deep sea creature - a whole lotta me
This hat is THE hat which started my newfound obsession with hand-felted hats and its the one that I will say if you haven't tried them yet - on you go. They not only are incredibly comfortable but are surprisingly hear resistant and I've been able to wear it out lots. Thank you again Juliane for all the amazing work you put into your hats.
Rory,
Your review makes me smile. I love how you so vividly express yourself!
With warm appreciation, Juliane